Luxury Smart Home and Commercial Automation with One Touch Convenience. Enjoy more entertainment options, simplify routine tasks, and make better use of your resources to enhance your home experience with a sophisticated yet easy-to-use system.
















Your music, movies, sports and TV are at your command via a sleek remote, tablet or convenient touch panel in any room. Our devices will seamlessly transform your place into a state of the art wonder.
While the advanced System controller is the brains of the connected space, the remotes, touch panels and keypads bring automation to wherever you are. Our system is an experience you won't forget.
Your Smart Home automation system can scale with your needs, making future expansions quick, cost-efficient and non-disruptive. Our technology is at your fingertips.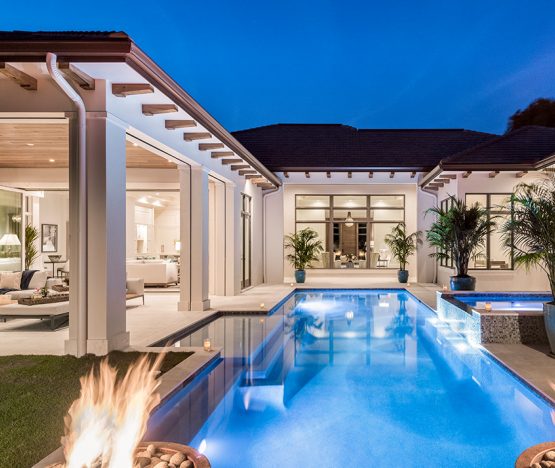 Our user interfaces have the same modern, simple look across every device. Simplify your experience with ELAN and integrate each device to create a smart home hub for ease of use. Lock your doors from the comfort of your bed, or check on your home while you're away. It's all possible with the security system built into ELAN smart home control system.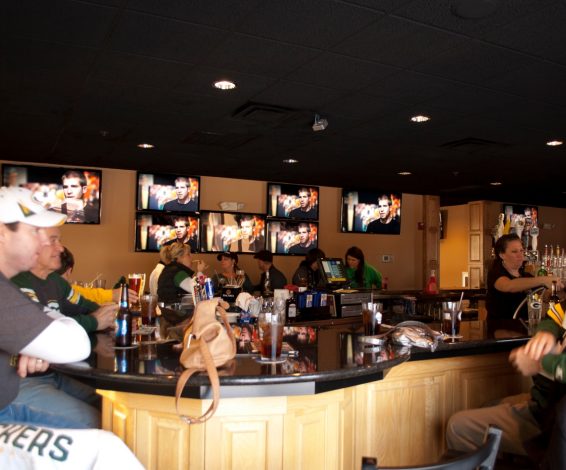 Offer hospitality entertainment in a common area, bar or every hotel room with an ELAN control system. Share ideas across the office or the world. ELAN commercial solutions are designed and optimized for an array of business and entertainment environments and provide the same superior quality as our residential solutions.
The award-winning and intuitive ELAN User Interface works the same way on your mobile device or tablet, remote or wall mounted touch panel. Integration on each device is easy with ELAN control systems.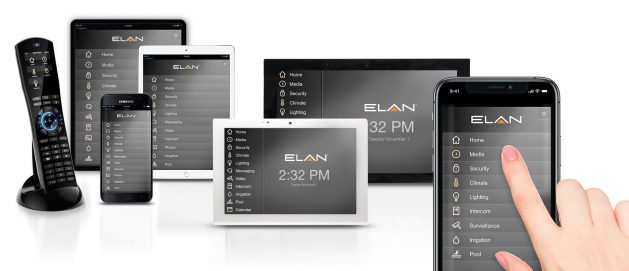 Available in 8 inch, 12 inch, black or white with optional flush mount kit with matching trim.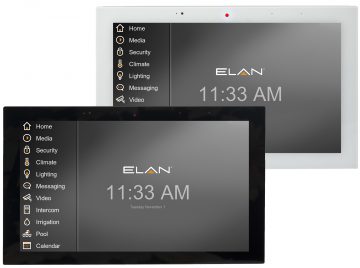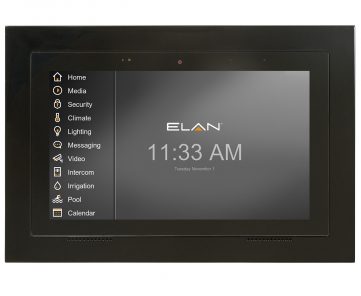 Voice intercom with the front door bell or other screens in the house
Video intercom with other touch screens or view the camera remotely
Clear audio for front door intercom or other screens.
View up to 16 cameras in full 1920 x 1080 HD video
With an 2.8″ touch screen or 2.4″ screen with 6 buttons, ELAN remotes provide whole house control with instant status feedback of entertainment, lighting, shades, security and climate.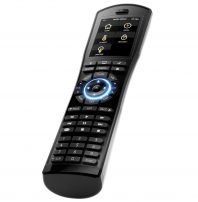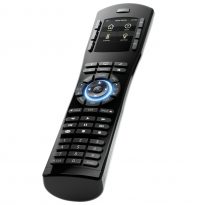 Provide instant access to Audio, Video, and Lighting devices.
10 key keypad and common functions for today's media source's control.
Finally! No more pointing the remote control at the TV
Turn on and off everything in the room or customize for goodnight routines
Indoor and Outdoor
Motion Activated Recording Object Analytics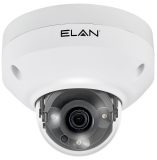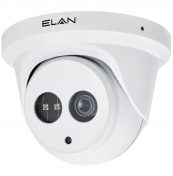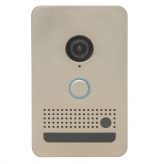 Indoor or Outdoor, 4MP
White or Black
Indoor or Outdoor 4MP
White or Black
4MP, IR
Available in Black, White or Stainless Steel
Answer from phones, tablets or touch-panels. Bronze, Black or Nickel
8 Cameras with 1 TB of storage
16 Cameras with 2 TB of Storage
Up to 16 TB total storage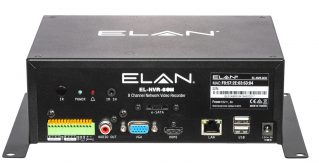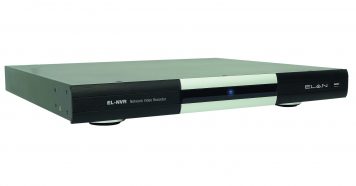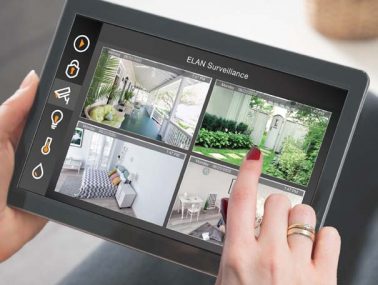 ELAN Surveillance delivers a seamless control system integration that rises above the competition. Control both the NVR and cameras from within the ELAN user interface. Zoom, play, rewind, stop, and save a video clip. You no longer need to switch between the ELAN app and another surveillance app. No other system can match this level of control integration.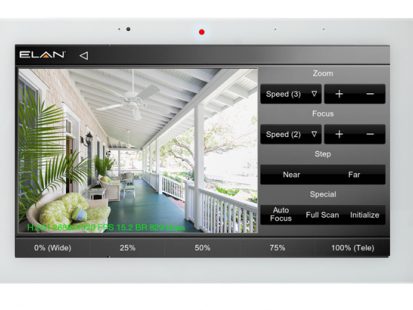 Whether you're selecting different media for each space or playing your favorite sound throughout your home, ELAN's home entertainment system makes it easy.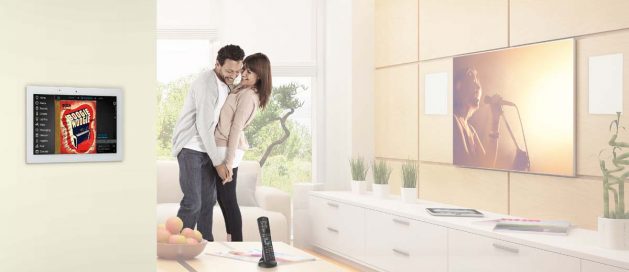 Easily scaling from a single unit solution to a large audio distribution system that can be expanded up to 64 individual zones.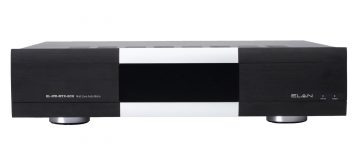 Multi Zone Audio Matrix Amplifier
4 Stereo or 8 Mono Amplified Zones
80 Watts per channel
Expandable with Additional Zone Extenders
5-Band EQ for Each Zone

Multi Zone Audio Extender
4 Stereo or 8 Mono Amplified Zones
80 Watts per channel
5-Band EQ for Each Zone
The new ELAN speakers help deliver exceptional entertainment experiences for systems of all sizes. ELAN Speakers are available for high-performance distributed audio and home theaters to just a bit of background music. And of course, with all the elegance, sophistication and performance to match with any ELAN Entertainment and Control System.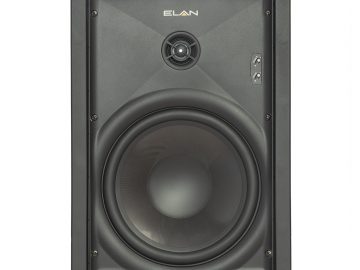 The 800 series is the perfect choice for discerning homeowners. Better clarity, resolution and dynamics are achieved via a graphite-injected polypropylene cones and Aluminum dome tweeters on most models. Increased vocal clarity and enhanced dialogue or adjustment of tweeter performance are enabled with the VOCAL and TWEETER enhancement switch..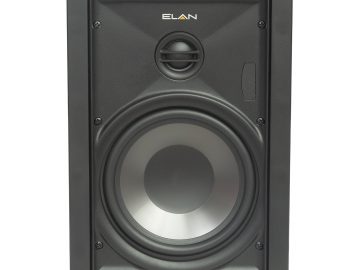 A multipurpose speaker series with step-up performance includes upgraded injection molded polypropylene cones and pivoting 1" soft dome tweeters. This selection is perfect for home theater or distributed audio.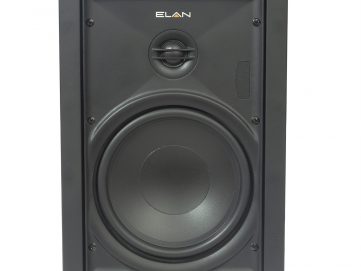 When a bit of sweet-sounding background music is what's needed, the 400 Series over-delivers. This value series features top-shelf components, including ½" Tweeters and Polypropylene cone woofers, ideal for smaller budgets.
Whether you have one video source or multiples, we have the solution for you. This HDMI matrix can combine the benefits of having a splitter and a switch enabling you to run multiple signals to several devices, while control, source and destination modules, each one operates on a single network cable. These support video walls with multiple configuration options for a variety of applications.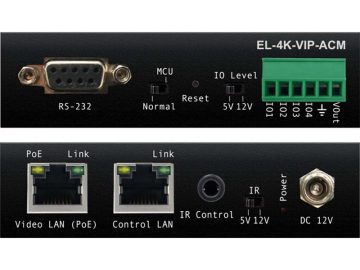 Premium Video over IP (VIP) platform distributes HDMI video over a 1GB Network switch using visually lossless technology. The ELAN Advanced Control Module integrates 4K Video Over IP into the ELAN control and automation system.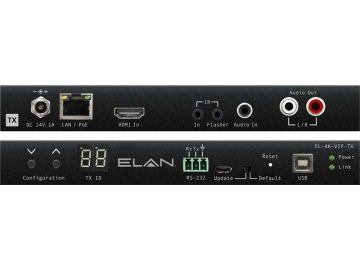 These Transmitters use visually lossless compression technology to deliver HDMI up to lengths of 100m over standard network architecture. They are powered via PoE from a Network switch. With multiple configuration options available, this Video over IP solution is ideal for both commercial and residential installations.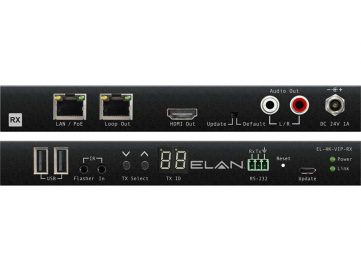 When a bit of sweet-sounding background music is what's needed, the 400 Series over-delivers. This value series features top-shelf components, including ½" Tweeters and Polypropylene cone woofers, ideal for smaller budgets.